Chairman's Message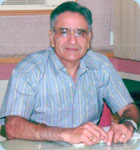 I Strongly believe that good professional ethics, dedicated team of people and sincere efforts can only create satisfied customers. I also believe that as the list of satisfied customers grow so will be the growth of MASYC . And I take this opportunity to extend my gratitude to all our customers through out India as well as in many other countries who have reposed their confidence in my organization and have benefited from our rich exposure and vast experience in the field of Bulk Material Handling Systems & Equipments.

It is indeed a pleasure to extend our services to all of you. And the group of engineers at MASYC will provide you the most efficiently designed and cost effective solutions to suit your specific needs of Material Handling Systems of any size and value backed-up by an experienced and truly specialized after sales services.

I thank you for your consideration and request you to be in touch with us with your specific requierments since at MASYC we have much more to offer than what range of Systems / Equipments are displayed in this site. If for any reason you need to speak to me you are most welcome to do so.