En-Masse Conveyors and Drag Chain Conveyors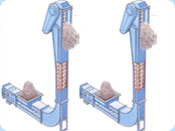 En – Masse Conveyors are an ideal mechanical device for handling various materials like cement , coal , limestone , grains and pulses etc. These machines are best suited for handling powdered and granular materials. These machines ensure very mild and soft handling which is very essential for powdered materials . Our En – Masse Conveyors are very popular because these are very cheap , easy to maintain and are very economical due to low operating costs and lower power consumption compared to other material handling systems.


Automatic Bag Slitting Machine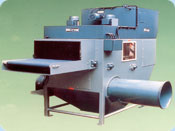 These machines are fully automatic and are very popular with Environment – friendly users. Our Automatic Bag Slitting Machines have been designed to handle a wide range of different sizes of bags containing powder or granular materials. The fully automatic machines are compact with automatic infeed conveyors, bag emptying unit , dust control unit and waste bag disposal unit.